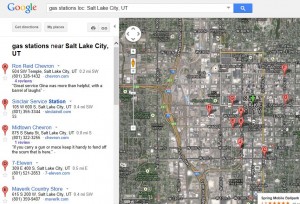 Mark Herre, founder and operator of a performance-based SEO company called SEOGame, believes in looking for business success in all the right places. And currently, the "right places" are Google Places. On Friday, October 11, Mark presented at the Sandy ELP meeting. If you own a business that lives or dies by its Google ranking, especially for local listings, you should be vigilant to build a proper pathway to success. Even if you don't HAVE to be ranked the highest on Google searches, you'll get more exposure if you do a few important things, and the "keystone" of your success pathway is a correctly-done listing on Google Places.
Your competition is working hard to be listed ahead of you in a Google search. Are you even on the map? Every business should begin with a Google Places listing. It starts with you simply completing a "Google Places" profile. If you don't have a Google account, now is the time to create one. Once you've created a profile of your business, you will receive a postcard in the mail to verify your address and to provide you with a PIN. Once you have the Google postcard, you can log in and change your account. If your business is located out of your home, for instance, you may not want anyone coming to your location. You can specify that you are in a particular region (up to 620 mile radius), and avoid having to list your physical address.
Citation Links. Having a Google Places listing puts you "on the map." Then you can do some additional things to boost your rankings. Create profiles on business listing sites that include links (citation links) to your website. For your local area, create profiles for:
Citysearch, Yellow Pages, Yelp, Knows, Superpages, Entrepreneur Launch Pad, Facebook, Twitter, Manta, LinkedIn, YouTube, Merchant Circle, Yahoo Local, Yellow Book, Craigslist, KSL and more.
Reviews. In addition to citation links, you'll want to concentrate on reviews. We should make an effort to ask for reviews from our colleagues, customers and others. In addition, we should get in the habit of posting reviews for those businesses we frequent. These reviews can be posted on a large number of sites, including Google Places.
Hiring a company like SEOGame to help your Google ranking is a great idea, but there are some simple things every business can do to make sure they are listed at the top of the page when potential customers enter search terms. It all starts with a listing on Google Places.