Not the only game in town?
Competition is an inevitable part of doing business. It may be a strange thing to say, but competition isn't always a bad thing for a business. How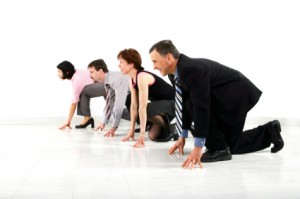 could that be? If, for example, you are a pioneer in your field and you're offering a new product or service that no one has ever seen or heard of, you could look at competitors as helpful people who are out there spreading the word about the need for a product or service like yours.
When it comes to game-changing ideas, it doesn't hurt to have more "feet on the ground" announcing new solutions. Believe it or not, it is easier to guide people into an understanding of why they should choose your service over a competitor's than it is to train your market about a new idea.
But what if your product or service is not new to the market and you have new competitors entering the field? Here are six tips to help you come out ahead:
Stay away from pricing wars. It is tempting to cut prices when faced with competition, but there are some good reasons to avoid it, if possible. By price-cutting, you appear to be reactionary, and you reduce the perceived value of your brand. It is also hard to raise prices once you've slashed them, and you attract customers who are not value-conscious.
Examine your uniqueness. Competitors offer a way to differentiate your business. Don't lose sight of that important opportunity. Take the time to study your business and what makes it unique.
Focus on your market niche. Learn to drill down. Fine-tune your market by asking, "Who is my ideal customer?" Chances are, you'll discover that your competition is serving a different segment of the larger market. You can keep sales volume up by focusing more completely on your niche.
Study your competition. What are they doing well? What are their weaknesses? It may seem obvious, but the more you know about the competition, the more likely you'll find ways to outperform them.
Review your business strategies. This is a great time to go back to your SWOT analysis. Take a fresh look at your Strengths, Weaknesses, Opportunities, and Threats. Adjust your strategies by including an honest comparison to the new competition. Now is not the time to "sugar-coat" your weaknesses or to downplay your strengths. But it IS a time to pursue new opportunities and to systematically eliminate threats.
Consider "co-opetition." When all else fails, consider joining forces with your competition in complementary ways. Often, one business does not do everything well, and it can be beneficial to divide the work in order to focus on parts of the business that are more in line with your core competencies. "Co-opetition" is a concept that can produce a win-win for all parties.
In short, emerging competition does not have to be the end of the world for your business. Instead, it could be a catalyst for some important and profitable changes.
By Chuck Chamberlain, ELP Editor-in-Chief