(Mark Herre's presence and SEO expertise in our ELP group is invaluable. We are pleased to publish this business spotlight featuring Mark and his business, SEO Game. We hope you enjoy this article.)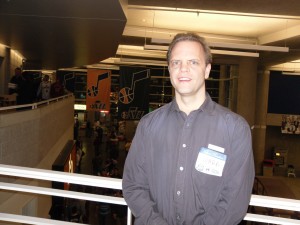 In the year 2000 Mark Herre stood before a roomful of fellow Search Engine Optimization (SEO) experts and made a bold prediction.
"Improving website page rankings," Mark said, "would be increasingly dependent on an emerging search engine called 'Google' and not on building links with spam."
His colleagues considered Google's share of the search engine market, only one of many players at the time, and its cartoonish name and laughed Mark out of the room. Nobody laughs at Google today.
Recently Mark shared some of the experience that he has gained in an 18 year career as an SEO expert. He talked about the future of SEO and that entrepreneurs can use Google to improve their rankings in keyword searches.
Lesson number one: If you're not on the first page of the Google search results you're not on the internet. Ranking highly in a Google search requires effectively using Google's applications and playing by their rules.
Welcome to a Google World
No one can predict what changes will occur in the technology sector. However, it is clear that Google Search is the dominant search engine and is likely to remain on top for years to come. Any attempt to improve a business's ranking in a keyword search must follow the rules that Google sets and must use the products that Google has created. Successful search engine optimization has become synonymous with adapting to a Google world.
Meet Google+
Google+ (pronounced Google Plus) is the world's second largest social networking and identity service. Google refers to Google+ as the social layer that enhances other Google properties. Today Google+ is in its early phase, but it is expected to merge with Google's many apps over time and become the dominant social network.
Mark says that using Google+ effectively can influence a local business's Google Search results for their Map/Placement Listing. An easy way to affect results is to use Google+ reviews. Many businesses attest that having more Google+ reviews will increase their rank in local Google searches sometimes known as zip code optimization.
Businesses with a physical presence who want to improve their local Google search rankings can deploy Google+ in a few simple steps. First, businesses owners must register in Google+; this is a process that anyone with a Gmail account can complete in three minutes or less. Second, businesses must register on Google Places and confirm their address Please click here for instructions. Third, provide exceptional products and services and ask customers for recommendations.
Lots of positive Google+ reviews can help manage a business's reputation by countering the effects of a bad review.
Lessons from Mark: Managing a business's online presence is a critical element of success. Today, Google is essential for improving businesses' page rankings and until that changes, entrepreneurs must understand and abide by the rules that Google dictates for improving page ranking.  Savvy entrepreneurs identify important online tools like Google+ and use them effectively and ethically.
Even though promoting a business with Google+ uses high tech search engines and the latest complex algorithms it is based on a concept as old as marketing itself – delight your customers and ask them to spread the word about your business.
By Jared Munk, contributing author