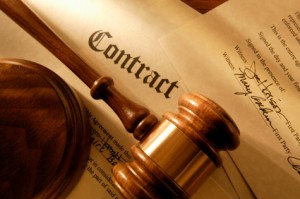 I recently attended a convention at a glitzy Las Vegas hotel. Speaking to thousands of marketing distributors, one of the presenters joked, "You wouldn't expect to survive if you only had one or two customers, would you?"
The audience members laughed and shook their heads, but the question made me think. Some businesses have only one customer and do quite well. When the customer is a government with taxing authority, landing a contract to provide goods or services can bring a very steady and lucrative revenue stream.
Contracting with the government isn't for every business.  Obtaining and maintaining profitable contracts is an art form that takes years to learn; but for the right business, it can make all the difference in the world. The U.S. government, for instance, purchases nearly $100 billion in goods and services from small businesses every year.  Successful government contractors recognize that selling to the government requires a completely different approach than selling to the private sector.
So how does one get started?
First, if you've never considered the government to be a potential market for your product or service, think again. Keep an open mind and recognize that the government is a microcosm of nearly everything you find in the private sector. Have you been guilty of ignoring the government as a market?
Second, educate yourself. Guess what? The government will help you learn how to do business with the government. The following are just a few of the many brief (typically 30 minutes) online mini-courses developed by the Small Business Administration to introduce you to the necessary information:
Government Contracting 101: Contracting Basics and How to Sell to the Government
Business Opportunities: a Guide to Winning Federal Contracts
Veteran-owned small business contracting programs
Women-owned Small Business Program (WOSB): a Guide for Contracting Officers
The WOSB Advantage
Non-Manufacturer Rule Primer: A Guide for Contracting Officers
Armed with the right information and the ability to persevere, there is no reason your business can't secure valuable government contracts.
By Chuck Chamberlain, ELP Editor-in-Chief