You've been to meetings where the content is highly theoretical. In those meetings, it takes some careful thought to apply the concepts to your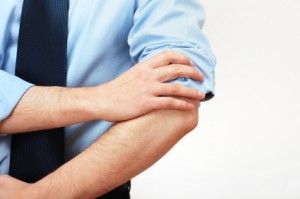 business. Lately however, ELP members in Sandy have held meetings geared toward "rolling up your sleeves" and jumping into the practical aspects of owning a successful business. Friday's meeting (July 26/'13) was no exception.
Possibly the most "theoretical" moment came in the beginning when Sterling Bateman talked about the question, "What is ELP?" If you've been to an ELP meeting, you'll identify with an answer that included such things as an "abundance mentality" and free collaboration.
The group went through their "Me in 30 Seconds" to work on their "elevator speeches" while introducing themselves. This exercise is done weekly and gives members the opportunity to work on their messaging. It sounds simple enough, but the skill and discipline required to condense your value proposition to a mere 30 seconds is quite extraordinary. All business owners should do this on a continual basis. Even those in the group who were still searching and not yet decided on their business plans benefited from the discipline of explaining concisely who they were. 
The prior week, presenter Steve Ellis gave a homework assignment to get "your next client" during the week. He was given time to follow-up on the assignment. Not all were able to do the assignment, for various reasons. As a result of the homework assignment, a discussion about "closing the sale" developed. It was apparent to all in the group that when it comes to asking for the sale, not all "pitches" are equal. Someone mentioned the possibility of a future presentation from Chuck Chamberlain on "closing the sale."  Steve Ellis talked about a related question during a job interview. That question was, "What would prevent me from getting this job?" Asking for someone's business can be similar to that key question in a job interview. In your own way, ask the person what would prevent you from getting their business. It is possible to receive guidance from a prospect to help you close the sale.
Some in the group told of successes they had experienced during the week to obtain their next client, and others had come across challenges such as customers who wanted the service for free. Additional thoughts on the subject of gaining your "next" client were:
The "next" client could also be an existing or current client. We should not ignore the great business we get from existing clients.
Focus on referrals and relationships with clients.
Bobby James, assistant site leader over marketing, talked about using the ELP website as a resource to get your story heard. He talked about the latest "business spotlight" on the ELP site, Elizabeth Cordero's story of coming to the U.S. at age 14 with no English skills and having the drive to build a successful business. He asked the group to consider why they are experts, why they are in business and what motivates them. These are often very compelling stories.  Jared Munk is working with ELP members to prepare their stories for publication on the site, but members have to take the initiative and contact Jared first.
SEO expert, Mark Herre, discussed the use of SEO concepts to get to the first page of Google. He presented an infographic flowchart on how to do a review, customized for your web site.  He talked about the importance of a Google Plus account and of putting yourself on the map. Even if you only get business through referrals, customers will Google you first before contacting you. Having great reviews on the web is everything.