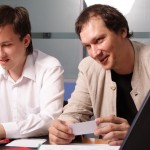 Kevin Davis, owner of Guru's For Hire, and renowned online marketing guru, enlightened our Park City group with a powerful presentation on "The Art of Branding Online."
Your business is your life as an entrepreneur. You need to be marketing where your customers are—where they are looking, and they are looking in Social Media which should take them to your website.
Branding
Your Social Media sites and Website should reflect your brand—your logo, name, image and colors are all cohesive. You'll also extend this brand marketing to other modalities, such as videos and pictures, emails and messaging. As you reach out to your contacts and connections, they will recognize you by your branding. So, it's extremely important that you:
•             Register your brand names early.
•             Create a consistent look across your networks.
•             Optimize your sites and profiles to be found.
•             Leverage your brand across new media through publishing.
On Social Networks you need to Claim Your Brand.  When you are searching for URL's and names online, check at www.knowem.com and then claim them.
Branding Through Your Blog
You also need to brand yourself through your Blog.  Link between your Blog on your main site and other Social Networks. You can set up an app that automatically sends out the title and first few lines of each Blog post to your Social Media sites with a link back to the full Blog on your website.
Using your Blog as the source of content for your Social Media content sites, forces you to use an integrated approach to Social Media. For example, when you post your press releases on your Blog, they go to all your social media sites.  This will give your visitors multiple choices to consume your information.
Another way to share your Blog is to have an RSS feed option attached to it. Your readers who subscribe through the RSS feed will get each post sent to them through an email connection. You can share your YouTube videos this way, too. An RSS feed can be sent to Aweber and MailChimp.
Facebook Marketing Using Your Brand
This introduces other social possibilities, such as visitors sharing the opportunity you're providing through a Facebook Squeeze Page app. Using this app, you can create a branded lead generation page within your branded fan page and build an email list off of Facebook.  And all marketers know it's much easier to convert your own email contacts to sales.  Another marketing tool is to put the Like button for Facebook on product content or information pages on your branded website. When your readers press the Like button on that content page, it gets "transferred" to their Wall where all their Friends will be able to view it. That could be up to 5000 Friends on their Profile page or an unlimited number of Fans on their Business Page. You can target your advertising on Facebook by demographics and sociographics. For example, suppose your target market is a married woman within 50 miles of Salt Lake City, who is between 35-45 years old and likes scrapbooking; you can target this market and build your email list. Kevin reported that 95% of his email list came from Facebook. Using coupon codes is the best way to build a fan base quickly. Another way to build a list is to use the Facebook community as an assessment. This is done through pay-per-click (PPC) or pay-per-thousand impressions (PPT). Facebook Media allows you to post: Status Updates (420 character maximum); Photos, which circumvents the character limit; Videos; Links, which you can set up to track; and Notes—the latest note (the most underutilized feature of Facebook. You cannot syndicate notes via RSS.
LinkedIn Relationship Marketing
After Facebook, the most important Social Media site for entrepreneurs is LinkedIn. It focuses on B2B relationships. The entire search operation on LinkedIn is based on connections. The Lion's Club is the most connected group. If your customers are on LinkedIn, link your other social networks with your profile.  On LinkedIn you can share documents, videos, and presentations.
You can post your portfolio on Behance; utilize Slideshare and Box.net and link them to your LinkedIn profile.  Create a Google Docs presentation, imbed a You Tube video and link to your LinkedIn profile.  Check out LinkedIn Open Networker.  Go to TopLink and start inviting people.
Twitter As a Broadcast Channel
The third Social Media site that entrepreneurs should use is Twitter. We need to use Twitter as a broadcast channel. Any post we do on our blog should show up on our Twitter stream. Likewise, any new video is sent to Twitter. Email broadcasts can start there and move to Aweber or MailChimp autoresponders (There's a Twitter app for this). There should be links to your main website, Facebook page, and LinkedIn profile from your Twitter site. Always update your avatar and include current contact information and website URLs on your Twitter site. Use the Twitter Tools to connect to LinkedIn.
YouTube Links to All Your Branded Sites
The fourth important Social Media site for entrepreneurs is You Tube. Your YouTube site is another branded channel. (change the background color). All your YouTube videos should be posted here, but linked to the specific page on your website or to the emails you created them for. Smart YouTube app will allow you to embed videos on your Blog pages. Some videos should also be linked to your Facebook and LinkedIn sites. Create a playlist of your best videos for Facebook and the business oriented list for LinkedIn. Separating the entire playlist by topics not only helps you organize it, but also helps your viewers find the video they are looking for. If you are doing video marketing you need a Kodak Z18 Pocket Video Camera. 
Social Media Trends and Tools
Kindle Publishing is going to be huge.  If you are publishing content you need to get it published on Kindle.  You can give it away free or sell it for micropayments.  The #1 purpose of this content distribution source would be for lead generation. On Google Trends you can check Kindle Trends.
If you are developing apps you can also follow App Trends through Google Trends.   Check out offers to be a guest blogger on high trafficked social network sites and blogs.  They will usually place a bio on their site.  Use About.me to create a detailed bio that can be linked to any site. The more connections you have from other sites to your main website, the more frequently you will show up on people's searches.
For more information, you can follow Kevin at   http://KevinDavisOnline.com, http://www.meetup.com/E-business-Owners and www.gurusforehire.com.  Contact: Kevin@gurusforhire.com.